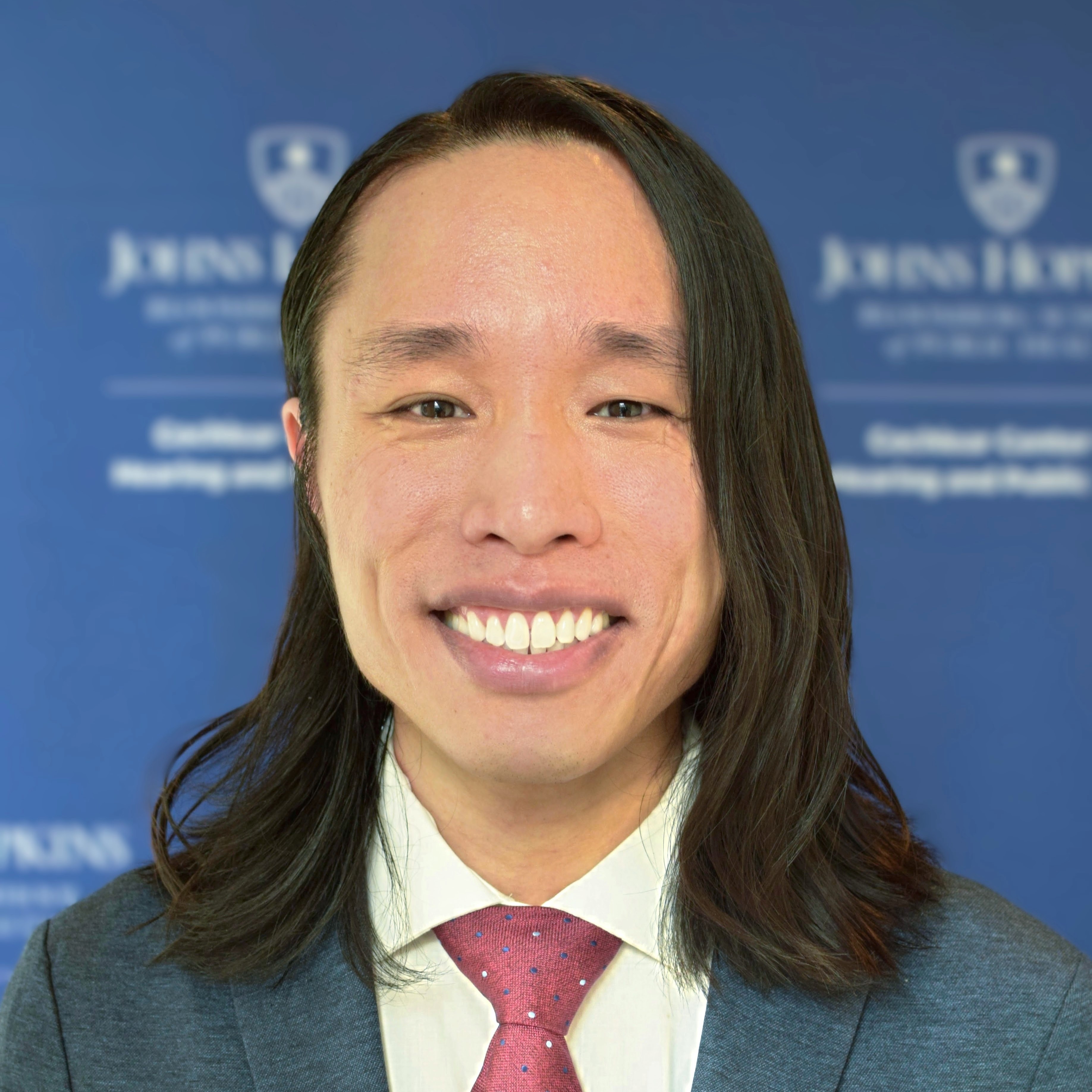 Bio
Jonathan J. Suen, AuD, is the first audiologist in the PhD program at the Johns Hopkins School of Nursing. He studies the relationship between hearing loss and loneliness in older adults for supporting healthy aging initiatives. Suen has served in various capacities across professional disciplines including as a guest editor and advisory board member with the American Journal of Public Health, an executive council member with the American Society of Geriatric Otolaryngology, and as an editorial board member for ASHA Perspectives Journal by providing expertise in public health audiology. Suen is also active in leading programs that aim to promote equity and inclusion in higher education. Johns Hopkins University selected Suen for induction into the 2023 class of the national Edward A. Bouchet Graduate Honor Society for exemplifying academic and personal excellence in areas of scholarship, leadership, character, service, and advocacy.
Suen was awarded an F31 training grant from the National Institute on Aging (NIA/NIH). He earned a graduate certificate in Gerontology from the Bloomberg School and his Doctorate in Audiology (AuD) from Gallaudet University in Washington, DC. He completed a postdoctoral research fellowship with Frank Lin, MD, PhD (2016-2018), where he co-developed a novel community-based delivery model of hearing care through academic-community partnerships in Baltimore (HEARS). He is co-advised by Jennifer Wenzel, PhD, MS, RN at the School of Nursing and Frank Lin at the Cochlear Center for Hearing and Public Health. 
Research: ORCiD;  NIH Bibliography
Lee, J.W., Nersessian, P.V., Suen, J.J., Cudjoe, T.K.M., Gill, J., Szanton, S.L., & Hladek, M.D. (2023). Loneliness is associated with lower coping self-efficacy among older adults. Journal of Applied Gerontology, 42 (2), 270-279.  Linked here. 
Vahedi, L., Harb, C., Tate, S., Nguyen, A., Ellis, T., Woolsey, S., & Suen, J.J.
(2023). When peace is threatened, so is public health. American Journal of Public Health, 113 (2), 132. Linked here. 
Nieman, C. L., Betz, J., Morales, E. E. G., Suen, J. J., Trumbo, J., Marrone, N., Han, H.R., Szanton, S.L., & Lin, F. R. (2022). Effect of a Community Health Worker–Delivered Personal Sound Amplification Device on Self-Perceived Communication Function in Older Adults With Hearing Loss: A Randomized Clinical Trial. JAMA, 328 (23), 2324–2333. Linked here. 
Suen, J.J., Parrillo, E., Hassoon, A., Peairs, K.S., Stanford, O., Wenzel, J., Zabora, J., & Dobs, A. (2022). Improving cancer care for underserved populations in an academic and community practice setting: A protocol for a community health worker pilot navigation programme. BMJ Open, 12, e067270. Linked here. 
LaFave, S.E., Suen, J.J., Seau, Q., Bergman, A., Fisher, M.C., Thorpe, R.J. Jr., & Szanton, S.L. (2022). Racism and older Black Americans' health: A systematic review. Journal of Urban Health, 99, 28-54. Linked here. 
Gleason, K., & Suen, J.J. (2022). Going beyond affordability for digital equity: Closing the "digital divide" through outreach and training programs for older adults. Journal of the American Geriatrics Society, 70 (1), 75-77. Linked here. 
Nieman, C.L., Suen, J.J., Dean, L.T., & Chandran, A. (2022). Foundational approaches to advancing hearing health equity: A primer in social epidemiology. Ear and Hearing, 43, 5S-14S. Linked here. 
Suen, J.J., Betz, J., Reed, N.S., Deal, J.A., Lin, F.R., & Goman, A.M. (2021). Prevalence of asymmetric hearing among adults in the United States. Otology and Neurotology, 42 (2), e111-e113. Linked here. 
Suen, J.J., Han, H.R., Peoples, C.Y., Weikert, M., Marrone, N., Lin, F.R., & Nieman, C.L. (2021). A community health worker training program to deliver accessible and affordable hearing care to older adults. Journal of Health Care for the Poor and Underserved, 32 (1), 37-49. Linked here. 
Suen, J.J., Bhatnagar, K., Emmett, S.D., Marrone, N., Kleindienst Robler, S., Swanepoel, D.W., Wong, A., & Nieman, C.L. (2019). Hearing care across the life course provided in the community. Bulletin of the World Health Organization, 97 (10), 681-690.  Linked here. 
Suen, J.J., Marrone, N., Han, H.R., Lin, F.R., & Nieman, C.L. (2019). Translating public health practices: Community-based approaches for addressing hearing health care disparities. Seminars in Hearing, 40 (1), 37-48. Linked here.